White Mountains AZ Horse Property Guide
Very few types of property require a specific knowledge more than horse property We are your best resource to identify what type of equine property best suits your needs.
Our clients looking for horse property most typically have a pretty good idea of what they want, and most own at least one horse, if not more than one. The top concerns of the horse property buyer are for the horse's health, safety and well-being; sometimes more important than their own personal comfort! We understand that there's much thought that goes into deciding if a specific property really is suited for horses.
Here are some factors we consider to be important:
1.The Land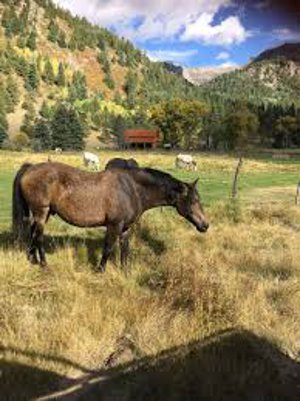 Not all land is "horse friendly". Steep slopes, rocky terrain, heavily wooded areas or low-lying areas with poorly draining soils are not ideal or recommended. Arduous slopes can strain tendons and ligaments, brush and branches can scratch eyes. Marshy soil and rocky soil can weaken and damage hoofs. Standing water in flooded or wet areas draw mosquitoes and biting flies that can cause equine disease; some fatal. Forage areas are an important consideration, also. Here in the White Mountains AZ, we do not typically have a great deal of meadow land. It's important to estimate how much supplemental feed and forage you will need.
Does the property have adequate water sources, either natural, tanks, or via stock irrigation. The average horse drinks five to 10 gallons of water per day, so having a private well is an important consideration.
Is there a convenient place to put in a manure pile that conforms to local zoning regulations, environmental regulations, and the sensitivities of non-horse owning neighbors? The average 1,000-pound horse creates 37 pounds of manure and 2.4 gallons of urine a day.
2. Horse Housing
Just as there are different styles of homes, there are different styles of barns. Is there hay storage in the barn, and
how many bales can it store? How many stalls is it equipped with, and is there room for storage or equipment? In the pastures, are there structures, or "run-in sheds" for the horses to shelter from sun, rain or high desert winds? This is vitally important if there is no barn on the property, horses must have some form of shelter to protect them from extreme weather conditions.
3. Tack Rooms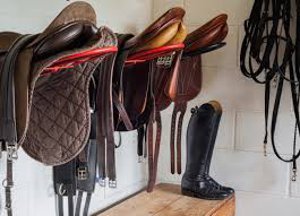 There's a lot of equipment needed for the care and riding of horses, all needing to be stored, usually in a tack room. Saddles, bridles, blankets, grooming supplies and more need a designated are to be kept. Saddles are expensive, sometimes between $2000 and $4000 investment. Tack storage areas need to be secure from not only from theft but also damage from mice, other rodents, and pests. Inspect tack areas to ensure it's protected from extremes in temperatures which can weaken and destroy leather goods. First aid supplies, medications and the like need to be stored in temperature-controlled environments to prevent spoilage or changes in the active ingredients.
4. Feed Room
Horses need to graze and eat slowly and steadily throughout the day. But just like you "child-proof" food cabinets,
you need to "horse-proof" your grain storage. Left to their own devices, horses will gorge on grain, many times leading to colic, severe stomach pain, and in extremes, fatalities. So safe grain storage is an absolute must. The grain storage area must be free from dampness to prevent spoilage, and should also be rodent proof.
5. Fencing
Fences must be strong, sturdy and checked regularly for loose nails, cracked boards or loose posts. Three- and four-board wood fences are the most common types, with electric tape, vinyl and no-climb wire also being popular. No-climb metal horse fencing is a plus. However, on large acreage, most usually you will find simple wire fencing in the White Mountains. Barbed wire should never be used on an equestrian property.
6. Ride Out
This is an important consideration-- are there riding trails or areas off the property that are allowed for equestrian use? How far do you have to ride along the roadway to access riding trails is a vital buyer investigation, along with your agents. Is there a riding easement to public lands for equestrian use? Do neighbors share an equestrian easement?
7. Round Pens, Arenas, Turn-Outs
Training areas, similar to arenas, now have any number of options to cushion the impact of repeated stress. From bluestone and sand to rubber and felt, know what it is and how old it is. Is there a round-pen with turn-out? What about a grooming station with available water?
8. Vets, Farriers, Trailers?
Professionals who care for horses need access to them. Farriers will trim feet and attach shoes as needed every four to six weeks. Veterinarians usually visit horses at least twice a year for checkups and vaccines; and also may be seen by equine dentists. These professionals need to be able to easily access your barn and then have a place that is well-lit to safely work, even potentially late at night. They also need a place to park their truck where they have easy access to their tools and materials. You may have feed being delivered frequently. These vendors have large, heavy trucks. And if access is muddy, rocky, difficult to traverse or park, vendors may decide not to deliver to you.
9. Large Equipment Storage and Parking
Horse trailers, tractors, mowers, manure spreaders, trucks, arena maintenance equipment and whatever else you have all need a place. Keeping machines covered or in some form of garage will make them last longer and work more reliably. Look for additional structures that can be utilized.
10. Bad Weather Plan
We do get snow and monsoons and high winds here in the White Mountains. You need a plan for bad weather, which can come about quickly. Have a game plan for your livestock to keep them safe and calm. Our area can have wildfires, and you need a plan for how to get horses to safety. In inclement weather, have a plan for how to get to the barn to feed and water the animals. If the barn is distant from the house, you will need heavy equipment to make you can get to the horses in a timely fashion.
Finally, rely on us to point you to resources you need when buying horse property in the White Mountains. If a property is lacking in a certain category, we'll help you determine what could work instead. We keep firmly in mind that you want what's best for your horses and we'll help you find it!