It's easy to feel overwhelmed during the home-buying process. Whether it's your first home, a "move-up" home, or vacation home. Buying a home isn't something you do all of the time! So, it can be challenging. After all, a home is probably the most expensive purchase you'll ever make. And it's one that can involve many complicated financial steps. But keep your eye on the prize! What you'll go through will be forgotten, and you'll have years and years of enjoyment in your new home. As you are certainly aware, you have to come up with a down payment. But, the up-front costs don't end there. In fact, once you have an accepted offer, a surprise package of additional required, and sometimes, non-negotiable fees that can total well into the five figures. So here are eight costs that will hit your finances the hardest, and what you can do to minimize the impact.
1. Your Mortgage Rate
The majority of home buyers will require financing (a loan) to cover at least 80& of the sales price. There are a multitude of mortgage lenders to choose from. Work up the numbers to see what you can afford, then spend some time and thought researching the different loan types and interest rates to find the one that's the best fit for you and your financial situation.
Why you should compare loans and prices: What can seem like a small difference between mortgage rates in 10ths of percentages rates which can cost thousands of dollars over the life of a typical 30-year fixed-rate loan. Rates are available online, but you should also consider mortgage points (discount points) if you plan to stay in your home for many years. Essentially you'll pay more money up front at closing in exchange for a break on your interest rate.
2. The Appraisal Fee
Mortgage lenders don't take the seller's word, or his agent's word that the home you want to buy is worth what you've agreed to pay for it. Before the mortgage loan can be finalized, the bank arranges for an independent appraiser to assess the home's property value by judging it agains recent comparable home sales in the area. You may never actually see what the home appraised for if it "appraised"-- meaning that the value met the price you agreed to pay. However, if the home "failed" to appraise, you will know that figure. The Seller can either agree to that lower value, or not. Sometimes, but not often, a lender will allow a borrower to make up the difference. Rare.
What and appraisal will cost you: The cost will vary depending on the location and the size of the home, but $300 to $700 is a range to keep in mind.
3. The Home Inspection
Hiring a certified home inspector to examine the entire home, interiorly and exteriorly (roof, basement, heating and water system, air conditioning, plumbing, electric, and foundation) is actually an optional yet extremely important procedure with an expense. But that expense could save you thousands of dollars in repairs, replacements after the sale. These inspectors specialize in uncovering issues the everyday person wouldn't either notice or even know to look for. Fire risks, safety hazards, code violations, questionable repairs/remediations/remodels building materials that are no longer acceptable choices.
Why it's worth it to you: The $200 to $500 cost for this examination can save you from extremely costly repairs later on. And, if any problems are revealed in the report, you can try to negotiate for these repairs to be done prior to the closing of the home at the seller's expense. OR, you will know what's in store for you down the road should the seller decline repairs.
4. Your Closing Costs
Closing costs are the associated fees and charges for things like underwriting, document processing,etc., and other closing fees needed to finalize your loan agreement. These can often end up being 2 to 5 percent of the purchase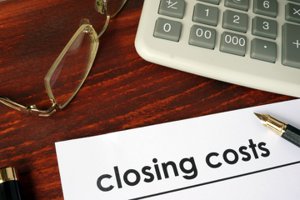 price. It's important to know these, because even if mortgage rates are similar at two different firms, these costs can vary. You'll also need to account for homeowners association fees if you're moving into a community that has one. Think about asking for the seller's help with these closing costs. Perhaps a small percentage of the purchase price. Many sellers are willing to help with closing costs, and it never hurts to ask. All a seller can say is "no"!
Fees that could be negotiable: You will get a loan estimate report from your lender that will itemize the charges from the bank or mortgage company along with other required services that are needed in order to close. Although many of the third-party fees, like a credit report, are set in stone, you can ask if there's any way to lower or eliminate some of the application or processing fees. Don't be afraid to negotiate! They won't eat you.
5. Title/Escrow
Title and escrow fees are those fees for Title Insurance, the work the Title Company does to research Title, fees to handle and maintain the escrow account and make the disbursements, prorate taxes, check for liens, work with your lender, transfer fees, document fees, recordation fees, etc.
6. Property Taxes
Depending on the value of the property and the area in which it is located, tax rates can vary greatly even between neighboring towns, and even subdivisions. You need to budget for taxes, so be sure to look for the yearly taxes on any real estate listing.
Keep in mind: Unlike a fixed-rate mortgage payment, there's no guarantee your property taxes will remain the same year-to-year. Be aware of this and budget to offset potential annual increases.
7. Home Insurance
Insurance to protect your home is recommended regardless of whether you're a renter or an owner. The majority of mortgage lenders typically require homeowners insurance to complete your loan agreement. Shop around, be sure to bind coverage during the process, and be prepared to give this information to your lender. Also, depending on where your home is located, your lender may also require additional coverage for flooding, earthquakes or hurricanes.
What to look for: Homeowner insurance policies can vary in what they cover and how much they'll cost. Look for a comprehensive plan that makes you feel reassured. Ask about discounts if you combine it with your auto and life insurance policies.
8. Escrow Account and Mortgage Insurance
If you're putting down less than 20 percent for your down payment, most lenders will require you to open an escrow account and get mortgage insurance to protect the lender in case you default on your loan. Monthly payments will be deposited into the escrow account to cover your mortgage, property taxes and insurance premiums. The lender then takes out the mortgage payment and pays the taxes and insurance for you. Regarding mortgage insurance, what you'll have to pay and when you'll have to pay it, depends on the type of loan. Your lender will tell you what to expect.
What to prepare for: While the escrow account is no additional cost to you, many states require banks to keep a minimum balance equal to two monthly escrow payments, so you'll need to have that money up front. Using a mortgage calculator to determine your estimated monthly payments is a great beginning. But only for some ballpark figures. You'll also need to find out how much your homeowners insurance and property tax will be for the year, then divide them by 12. That number along with your monthly mortgage payment is what you may actually be required to pay out each month.