Disc Golf in the White Mountains!
NATIONAL DISC GOLF DAY – First Saturday in August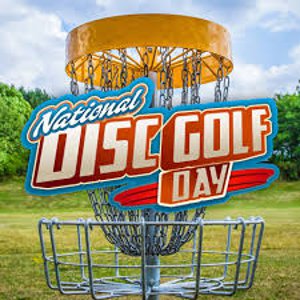 Grab your discs and call up your friends! The first Saturday in August is National Disc Golf Day! On August 2, 1974, disc golfers in the Rochester, NY area decided to make their annual City of Rochester Disc Golf Championship a big national tournament to find out just how many other people around the country were playing disc golf. They called the event the American Flying Disc Open, and to attract the attention of the Frisbee™ community; they put up a brand new 1974 automobile to be awarded to the winner! The Registrar at National Day Calendar approved the day in July of 2016.
Disc golf shares the common traditional golf goal of reaching each target (golf hole) with the fewest number of strokes, or in disco golf, more accurately, throws. Some of the earliest versions of disc golf involved school kids tossing things like tin lids on a self-made golf course. By the 1970s, though, players competed in league play and tournaments…using those familiar plastic discs. Since then interest in the sport has continued to grow.
Requiring far less equipment, Disc golf is very much like the traditional game in many ways. But rather than clubs and a ball, the only gear necessary is a disc or Frisbee™. Starting from a tee pad, most usually a rectangular area made of anything from rubber to cement or even brick, the player works down the fairway after each throw.
From wherever the disc lands, the player throws again and repeats until the disc lands in the target. As in traditional golf, the total number of throws a player takes to get the disc into the target is equal to the score for that hole.
Disc golf has been played since the late 1960s and became a formalized sport in the 1970s. At the outset of the sport, targets were nothing more than tree trunks or wooden posts cemented into the ground. As the game gained popularity, trees and posts were replaced with metal baskets with chains, with the chains helping to catch the discs. Those metal baskets, originally called a "Disc Golf Pole Hole", are now the modern day targets with dozens of design variations being used with the same general idea and technical specifications in mind.
Disc golf is an easy and inexpensive sport or past-time, as well. Taking along a few discs when packing for vacation adds
very little weight to camping gear or luggage. And, unlike traditional golf, which can be an expensive hobby or sport, a majority of disc golf courses across the country are open to the public, requiring no fees, membership, or tee times. When watching people play disc golf, it's not surprising why it's such a lure for people of all ages.
• Health The typical 18-hole disc golf course averages 3.3 miles, so you'll get a good workout. Good for cardio, because you have to do a lot of walking and sometimes, climbing hills.
• Ease-of-Play Forget complicated rules and costly equipment. A starter disc only costs about 10 dollars, but once you get into the sport, you'll probably want three or four discs.
• Family-Friendly It's a great sport for the entire family of all ages; courses are usually in natural areas with plenty of opportunity to enjoy nature and the surroundings. It's great fun and brings the family together for an afternoon of laughs and enjoyment!
Getting Started
The discs used in disc golf are smaller and heavier than the throw-and-catch flying discs you're probably familiar with. They also come in different versions. There are putters and drivers, and "approach discs".
Each one flies differently due to its aerodynamics, so you'll want to practice your throws before you hit the course. To learn the basics or to improve your skills, check out the workshops offered by one of the disc golf clubs in the area. When you've gotten a few moves down pat, try your hand at a local tournament. Many are held for charities, so it's a wonderful way to enjoy the game for a great cause. In tournament play, you might even win a new disk! This is a great way to replace the ones you'll reliably lose in fall leaf piles!
If competing isn't for you, don't worry. There's plenty of room in disc golf for people of all levels. The goal here is to have some fun.
The sport continues to grow internationally with the number of courses increasing all the time. And here in the White Mountains, we have quite a few courses for players to enjoy. In August of 2015, the International Olympic Committee granted full recognition to Flying Disc sports providing a global platform for Flying Disc sports, including disc golf.
People of all ages and abilities can play and enjoy disc golf. A great low-impact, cardiovascular workout that can test both physical skill and mental determination, this activity brings the whole family together for an afternoon of laughs and enjoyment together.
Additionally,
NATIONAL DISC GOLF DAY DATES
August 3, 2019
August 1, 2020
August 7, 2021
August 6, 2022
August 5, 2023
August 3, 2024
August 2, 2025
August 1, 2026
August 7, 2027
August 5, 2028
August 4, 2029
Local White Mountains AZ Disc Golf Courses
Show Low City Park
Woodland Lake - Pinetop-Lakeside
Greens Peak
Ironside Bluffs
Snowflake
Sunrise Ski Resort