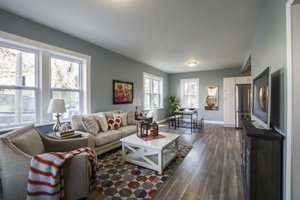 With more and more people retiring every day, many are considering White Mountains AZ for retirement living. And our 55+ communities are extremely attractive, including RV resorts! The White Mountains offers unlimited recreational, educational, senior support services, a huge medical center, and a peaceful and quite lifestyle. Roads are all excellent and typically uncongested. There's always something to do in the White Mountains!
These RV resorts are not the "trailer parks" of old, either. With nicely appointed Park Model Homes, or well-made newer manufactured homes, even RVs, these well-kept and pretty communities offer seniors a lovely setting in the small-town atmosphere of the White Mountains. There are also several "stand-alone" home communities, too. Many of these communities allow you to own the land under your home. There are a few that do offer homes on leased land. HOA fees vary, but are affordable and can include pine lots, waterfront homes, water features, clubhouses, fitness centers, bike and walking paths, golf, tennis, RV and other storage. All are close to shopping, goods/services, and medical facilities.
For affordability, a Park Model home or manufactured home is a great choice for retirees who are selling a larger home (down-sizing), have little or no mortgage, and plenty of equity. These seniors can buy a good place to live, a very comfortable lifestyle, and still have plenty of money left over for travel, pleasure, and fun. The strong social networks of neighbors watching out for each other in these communities is also a huge plus. Daily activities, moving about the community, walking the dog at night, are unconcerning safety-wise. Essentially, these communities are gated communities that are affordable and safe for retirees with lots of activities, social
interaction and engagement. We invite you to come tour White Mountains Retirement Lifestyle homes with us!
For more information on White Mountains AZ 55+ communities, HOA fees, amenities, availability: